Xanax Possession Lawyer in Austin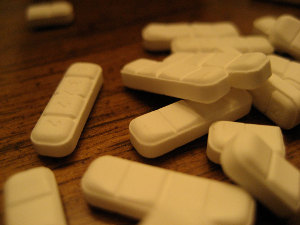 Texas Penalties for Possession of Xanax
The criminal penalties for possession of Alprazolam (Xanax) in Austin are set by Texas state law. According to the Texas Health and Safety Code, Xanax is a controlled substance in Penalty Group 3. There are 5 penalty groups in the code for determining the punishment for possession of controlled substances in Texas, plus one group for possession of marijuana. The lower penalty group numbers indicate more dangerous substances and have more severe punishments. Other substances in Group 3 include Valium and Ritalin, which are other prescription drugs.
While Xanax may not be considered as dangerous as heroin or meth, the table below shows that the penalties for Xanax possession in Austin are very serious nonetheless. Notably, possession of just 1 pill will result in a Class A misdemeanor if you are convicted of the crime. Class A is the most serious type of misdemeanor in Texas, more serious than the typical Class B Misdemeanor for DWI or a Class C Misdemeanor for public intoxication. Class A is the same class of misdemeanor that people receive for violent offenses such as assault. All possession of Xanax convictions of more than 28 grams will result in felonies.
Penalties for Possession of Xanax

| Amount | Classification | Max Fine | Jail Time |
| --- | --- | --- | --- |
| Less than 28 grams | Class A Misdemeanor | $4000 | Max 1 year |
| 28–200 grams | 3rd Degree Felony | $10000 | 2–10 years |
| 200–400 grams | 2nd Degree Felony | $10000 | 2–20 years |
| More than 400 grams | 1st Degree Felony | $50000 | 5 years–life |
Source: Texas Health and Safety Code
It's important to remember that all drug-related convictions result in a drivers license suspension for 6 months. See our page for more details on this penalty. Another automatic penalty for possession of Xanax is the requirement to take a lengthy drug education class at your expense.
What to Do about Possession of Xanax Charges
If you're facing possession of Xanax charges in Austin, there are several things you can do. One is to avoid the circumstances that led to your arrest for possession. Repeat drug offenses generally result in an escalation of the offense classification by one level: for instance, from Class A Misdemeanor to 3rd Degree Felony. So it's best to avoid this situation if you can, but if you're already facing repeat offender charges, we can help you make the best of this setback and get your life back to normal as much as possible. Be sure to mention you have prior offenses with any attorneys you talk to if you want the best possible legal defense for your specific situation.
Another action is to contact a lawyer experienced with drug charges in Texas. The reality is that many drug charges are either dismissed or reduced to a less serious charge, such as possession of drug paraphernalia, which is a Class C Misdemeanor. The Law Offices of Sue Berkel has over 25 years of experience with drug charges and offers a free consulation.
Get help today
Legal Defenses for Possession of Xanax in Austin
The details of your arrest will determine the best legal defense for your case. For example, it's quite common that police officers conduct a search for illegal drugs without actually having acceptable reasons to do a search in the first place. When this happens, the search itself is actually illegal and any evidence obtained during such a search is not admissible in Texas courts. If this can be demonstrated by your lawyer, the result is often a dismissal of the charges because no valid evidence remains to convict you of the crime.
The Law Offices of Sue Berkel would be happy to assess your case and help resolve your possession of Xanax charges as painlessly as possible. Contact us soon for the best results!