Divorce Lawyer in Austin
Divorce is probably one the most traumatic events you and your family might ever go through. The best divorce attorneys in Austin will work to make this otherwise painful experience go as smoothly as possible so you can get on with your life. Whether you are seeking a collaborative divorce lawyer, a lawyer to assist you in mediation, or a traditional litigated divorce lawyer, Sue Berkel will bring over 30 years of family law experience to aggressively fight for your interests. The following graphics illustrate the role of a divorce lawyer in three different types of divorces.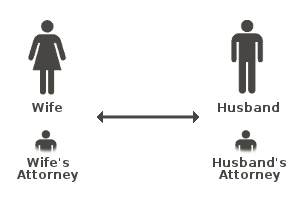 In a collaborative divorce and in divorce mediation, both spouses must agree on all issues for the divorce to be finalized. In a litigated divorce, a judge ultimately imposes the terms of the divorce on both spouses. Moreover, divorce lawyers typically speak for their clients in a litigated divorce whereas they play a more advisory role in collaborative law and mediation.
As a former judge, Sue Berkel has over 30 years of experience with family law cases in Austin. Call today for a free consultation on your divorce.
About Sue Berkel
Get started
Common Questions about Divorce in Austin
How much does it cost to have a divorce in Texas?

If both parties are in agreement on all relevant issues and file their own paperwork, a divorce can be obtained by paying the filing fee of approximately $300 in Travis County and $250 in Williamson County. If the parties require divorce lawyers to help resolve disputes but are able to settle all issues out of court, they will be responsible for paying divorce attorney fees, which are generally hourly, and fees of any other experts hired such as mediators, mental health professionals, and financial experts. Bringing a divorce to trial is typically the most expensive type of divorce.

How long does it take to get a divorce?

There is a mandatory 60-day waiting period to have a divorce finalized in Austin. It is not uncommon, however, for the time period to run between 90 and 120 days due to crowded court dockets and the time required for divorce attorneys to draft documents that both parties will agree to. If the parties fail to come to agreement, the time necessary to finalize the divorce will depend on the conduct of both parties and their divorce lawyers, the court's schedule, and the nature and complexity of contested issues.

What if one spouse does not want a divorce?

Texas is a "no-fault" divorce state, which means that the spouse petitioning for divorce does not need to prove any wrongdoing to obtain the divorce. Courts in Texas will finalize divorce orders even if the other spouse refuses to sign them. An Austin divorce lawyer will be able to advise you on how to obtain a divorce even if your spouse refuses to cooperate.

What is an uncontested divorce?

An uncontested divorce is one for which both partners agree on all issues relevant to the divorce—such as property division, spousal maintenance (payments to a spouse), child support, and child custody and visitation. Spouses going through an uncontested divorce may still hire lawyers for the divorce to assist with filing the petition and drafting a final decree.

What is a collaborative divorce?

A collaborative divorce is one for which both parties hire divorce attorneys but settle all disputed issues through direct negotiation outside of court. The advantages of collaborative law are that it's generally less expensive, faster, and offers greater privacy than a traditional litigated divorce in a divorce court. However, the collaborative process requires a basic foundation of trust and cooperation, so it's not appropriate for cases in which abuse has occurred or where one party has significantly more power and influence than the other.

What is divorce mediation?

Divorce mediation is an attempt to use a neutral third party to settle some or all disputed issues in a divorce. Because the role of a mediator is to remain neutral, mediators cannot offer legal advice to either party during negotiations. A divorce mediation lawyer is one who assists one party during the mediation process. It is often a requirement that parties attempt divorce mediation prior to bringing a divorce to trial, though this does not apply for cases in which physical or emotional abuse has taken place.

What is a litigated divorce?

Litigation is the process of resolving disputes in a court of law. Typically each party will hire a divorce lawyer to represent them. Unlike collaborative law and divorce mediation, a judge will have the final say in a litigated divorce, rather than the family members themselves. This type of divorce is appropriate for cases in which abuse has occurred or in which parties are unable to settle a large number of issues.

How does Texas divide up property if a divorce goes to trial?

Marriage property is classified as either "community" (jointly-owned) property or separate property. Only community property must be divided during a divorce; however, most property acquired during a marriage tends to be considered community property in Texas except when specific evidence suggests otherwise. Some of the factors divorce attorneys bring up when dividing community property are differences between the spouses' earning power, employability, education, health, and plans for custody of any children of the marriage.

Do I have to live in Austin to file for divorce here?

In order to file for divorce in Travis County or Williamson County, at least one spouse must be a resident of Texas for six months and a resident of the county which you are filing for at least 90 days. Time spent by a Texas resident outside the state due to military service will also satisfy the residency requirement. As long as one spouse qualifies, you can hire a lawyer and file for divorce here in Austin.

How is child support calculated?

Texas law bases child support on the number of children and the income of the non-custodial parent. The amount is typically 20% of the parent's income for one child plus 5% for each additional child. Children with special needs such as a physical or mental handicap may be awarded a higher level of child support. A Texas divorce lawyer will be able to give you a better prediction of child support after a brief discussion of your case.

Does Texas have alimony (payments to a spouse)?

Texas has a statute providing for limited post-divorce spousal support called court-ordered maintenance. Generally a court may order maintenance if the spouses have been married more than 10 years and the spouse seeking maintenance cannot provide for his or her reasonable basic needs. Additional maintenance may be awarded for cases involving family violence convictions or physical or mental disabilities on the part of a spouse or child, so contact a family lawyer in Austin if this condition might apply to your family.
The Role of a Divorce Attorney
Assuming there are still issues to be settled in your divorce, the role a divorce attorney will play depends on the method of dispute resolution employed. There are two main options for settling issues outside of court: collaborative law and divorce mediation. If these efforts fail, litigation before a judge is typically the only remaining option for obtaining a divorce. The following table compares these three methods and describes the role played by Texas divorce lawyers in each.
| | Collaborative Law | Mediation | Litigation |
| --- | --- | --- | --- |
| Illustration | | | |
| Description | Each party hires a divorce attorney and negotiates directly with the other party | Each party has the option to hire a divorce attorney and negotiates with the other party under the guidance of a neutral mediator | Each party hires a divorce attorney who advocates their side before a judge who ultimately decides how the divorce will be settled |
| Cost | Attorney fees for each party plus fees for additional experts which can be shared by both parties | Attorney fees (if attorneys are hired) plus fees for the mediator and additional experts which can be shared by both parties | Attorney fees for each party plus fees for additional experts which cannot be shared by both parties—most expensive option |
| Speed | Fast | Fastest | Slow |
| Schedule | Flexible | Flexible | Rigid |
| Privacy | Private | Private | Not private |
| Tone | Most cooperative | Somewhat cooperative | Adversarial |
| Experts | Typically shared | Typically shared | Typically not shared |
| Good For | Parties who want to make their own decisions in the presence of an attorney | Parties who want to make their own decisions with the option to consult with an attorney | Parties who want their lawyers to advocate for them, parties with a history of abuse or bad faith |
If you and your spouse have already agreed on the terms of your divorce, including property division and custody of children, an Austin divorce attorney can make the process quick and easy for your family. We can prepare and file the necessary documents for you so you don't have to spend your own time learning the system. Contact us today if you need an uncontested divorce lawyer in Austin.
Sue Berkel's Experience as an Austin Divorce Lawyer
Sue Berkel has been practicing family law in and around the Austin, Texas area for over 25 years and has a wealth of family law experience. She has resided in Austin since 1976 and graduated with honors from the University of Texas in 1980. Sue obtained her law degree from the University of Texas Law School in 1983 and has been licensed to practice in:
the State of Texas since 1984
the Federal District Court in the Western District since 1986
the Federal Fifth Circuit Court of Appeals since 1989
As an Assistant Attorney General for the Texas Attorney General's Office, Sue Berkel handled cases involving CPS in which abuse or neglect was alleged. While at the Attorney General's Office, which is the chief legal and law enforcement body for the state of Texas, Ms. Berkel handled hundreds of cases in both state and federal court and maintained an over 90% win record. Ms. Berkel also served as a judge at the Texas State Office of Administrative Hearings, rising to the rank of Senior Administrative Law Judge, the highest designation offered for this position.
Contact us today
While in private practice, the Law Offices of Sue Berkel has handled a variety of diverse family law issues, including divorce, custody, adoption, grandparent rights, termination of parental rights and modifications of child support, custody, or possession. She's helped draft and modify a great deal of legally-binding agreements, such as prenuptial and postnuptial agreements and private wills. She has experience with probate and the general administration of a deceased person's estate and property. Sue Berkel has the expertise to offer representation highly customized to your particular situation. Call us today to see how a top divorce lawyer in Austin can help you.