Austin Collaborative Divorce Lawyer
The goal of a collaborative divorce is to avoid the disadvantages of the court system by settling all issues through direct negotiation between each party. An Austin collaborative divorce lawyer is one who is trained in the collaborative process and can support one party's interests in negotiation. The main advantages of a collaborative divorce are that it's generally less expensive, faster, more flexible, and has greater privacy than settling issues through litigation in court. The collaborative process is typically less hostile than litigation but requires a basic level of trust and cooperation between each party to succeed.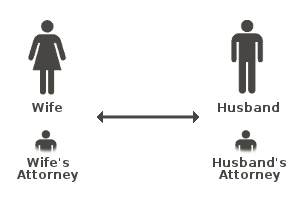 If the collaborative process fails, both parties must hire new attorneys because the collaborative divorce lawyers are forbidden from representing the same clients in court. This is to ensure all parties remain committed to settling issues through the collaborative process, including the lawyers themselves. While collaborative law can be a much more efficient and flexible solution than litigation, it's important to keep in mind that no guarantee can be made that the process will succeed.
Common Questions about Collaborative Divorce in Austin
What are the advantages of collaborative law?

Bringing any family law issue to trial is an expensive, structured, and generally slow process. Moreover, decisions on contested issues will be made by a third party—a judge or jury—rather than family members themselves. The rulings of a divorce court will be a matter of public record. Collaborative law attempts to avoid these downsides of litigation by using direct, confidential negotiation. Collaborative divorce lawyers and other optional experts make this process a feasible option for many families looking to limit the financial and emotional cost of divorce.

When is collaborative divorce not recommended?

Because there is no neutral third party in collaborative law to make decisions, there must exist a basic level of trust and cooperation on which to base negotiations. Typically this standard is not met for cases in which abuse is alleged or where one spouse has significantly more bargaining power than the other. Collaborative divorce also depends on voluntary disclosure of financial and other relevant information. If one or both spouses refuse this disclosure, litigation in court is the only option to force a spouse to do so.

How does collaborative law differ from mediation?

Both collaborative law and mediation aim to settle family law disputes through negotiations outside of court. Both process may bring outside experts such as mental health or financial professionals. A mediator, however, is a neutral third party, does not represent either client, and cannot offer legal advice. A collaborative lawyer, on the other hand, is hired by one party to offer advice and support that party's interests in negotiation. Mediation is typically required before bringing a contested divorce to court, whereas collaborative law is not.

Why must I hire a new lawyer to go to court?

It is essential to the collaborative process that the lawyers must withdraw if the divorce is brought to trial. This ensures that the collaborative divorce lawyers are fully committed to settling all issues collaboratively rather than in court, where attorney fees may be higher. While this practice may make it more expensive to attempt a collaborative divorce and then have to resort to litigation, it does increase the success rate of collaborative law to have the attorneys dedicate themselves to settling issues out of court.

How much does it cost to have a collaborative divorce in Austin?

A collaborative divorce can be both less expensive and less time-consuming than a traditional litigated divorce in court. When a divorce goes to trial, it often requires multiple court appearances with all parties present. By contrast, meetings in a collaborative law divorce are far more flexible and do not always require the presence of all parties and any professional experts involved. However, it is important to remember that no guarantee can be made a collaborative divorce will successfully avoid bringing the divorce to trial. We recommend getting a free consultation for the estimated cost of your divorce.

Is it necessary to hire additional experts in a collaborative divorce?

Hiring professionals other than attorneys is not required in a collaborative law process; however, there are many benefits to doing so. First of all, unlike in a divorce court, outside experts can be hired jointly and shared by both parties in a collaborative divorce. Moreover, they can only be summoned when needed in specific meetings. Some common specialists include financial professionals and mental health experts such as counselors or therapists.

How does collaborative law protect my privacy?

When a divorce is taken to a divorce court, a great deal of personal and financial information becomes a matter of public record at the courthouse. This is the nature of the court system and cannot be avoided. By settling all issues outside of court, a collaborative divorce takes place in private meetings where the two parties control what information, if any, is made public.
Request a free consultation
The Collaborative Law Process
In collaborative family law, all parties and outside experts agree to undertake a good-faith effort to avoid bringing the case to trial. This requires a basic level of trust, honestly, cooperation, and voluntary disclosure of essential information such as finances. A collaborative divorce is effective only if both sides are truly committed to settling the case without litigation.
Once this collaborative framework has been established, the couple and their collaborative divorce attorneys begin several sessions of negotiations, typically 4 to 6 sessions at 2 to 3 hours a piece. Other experts can be present if necessary. At the end of each session, the parties may have to obtain specific information prior to the next session. If agreement on all issues is ultimately reached, the attorneys will put that agreement into writing and have it finalized by a court.
If successful, the terms of a collaborative divorce settlement are typically easier to enforce than those of a contested divorce trial because both parties worked hard to negotiate all issues. Compare this result to a litigated settlement where terms are imposed on the parties by members of a court who are not part of the family.
Sue Berkel's Experience as an Austin Divorce Lawyer
Sue Berkel has been practicing family law in and around the Austin, Texas area for over 25 years and has a wealth of family law experience. She has resided in Austin since 1976 and graduated with honors from the University of Texas in 1980. Sue obtained her law degree from the University of Texas Law School in 1983 and has been licensed to practice in:
the State of Texas since 1984
the Federal District Court in the Western District since 1986
the Federal Fifth Circuit Court of Appeals since 1989
As an Assistant Attorney General for the Texas Attorney General's Office, Sue Berkel handled cases involving CPS in which abuse or neglect was alleged. While at the Attorney General's Office, which is the chief legal and law enforcement body for the state of Texas, Ms. Berkel handled hundreds of cases in both state and federal court and maintained an over 90% win record. Ms. Berkel also served as a judge at the Texas State Office of Administrative Hearings, rising to the rank of Senior Administrative Law Judge, the highest designation offered.
Contact us today
While in private practice, the Law Offices of Sue Berkel has handled a variety of diverse family law issues, including divorce, custody, adoption, grandparent rights, termination of parental rights and modifications of child support, custody, or possession. She's helped draft and modify a great deal of legally-binding agreements, such as prenuptial and postnuptial agreements and private wills. She has experience with probate and the general administration of a deceased person's estate and property. Sue Berkel has the expertise to offer representation highly customized to your particular situation. Call us today about your family law case.